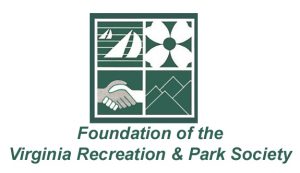 Foundation Board
Cindy Curtis, CPRP

Charles Hester, CPRP

Katey Legg, CPRP

Cindy Roeder

Greg Sager

Jo Turek

Susan Van Patten, Ph D

Beth Wood-Whitley, CTRS
The Foundation of the Virginia Recreation and Park Society Announces New Direction 
In evaluating the sustainability of membership versus alternative funding strategies to support the Foundation and its goals, the Foundation Board of Directors researched programs successfully utilized by other state associations, private organizations, and higher education institutions around the country. 
As a result, the decision was made to change from a Foundation membership-based approach to a tiered giving structure effective January 2022. We believe it will position the Foundation to increase its reserves, thereby enhancing the level at which we currently fund scholarships, continuing education, and other needs of our profession and its members. If you already renewed your membership this year, your dues will be converted into this new tiered giving structure. 
The VRPS membership was surveyed, seeking their input on naming the giving levels after Virginia trees. Based on the survey, the Annual Giving Levels are as follows: 
Virginia Pine                      up to $99
Eastern Red Cedar           $100-$249
Red Maple                         $250-$499
White Oak                         $500-$749
Tulip Tree                           $750-$999
Eastern Redbud                $1,000-$2,499
Sweetbay Magnolia         $2,500-$4,999
Flowering Dogwood        $5,000-$9,999
Those giving $10,000 and above have the option of creating a named scholarship.
As we develop a culture of generosity, our desire is to Create a Legacy that will support the Foundation for future generations of students and professionals, who in turn will keep VRPS in the forefront of the park and recreation movement. You can support the Foundation by giving here: https://vrps.memberclicks.net/foundationdonation. You will be given the option of giving your tax-deductible donation to the Scholarship Fund, Education Endowment, and/or Foundation Fund. 
The Scholarship Fund allows Virginia college students to attend educational sessions at the VRPS Conference at no cost. These monies, as well as those raised by VRPS Service Areas and Resource Groups, provide professional scholarships to attend VRPS-sponsored events and conferences also at minimal or no cost. We also have a number of named scholarships that are awarded based upon the wishes of family and friends. These include the James K. Cole and Jesse A. Reynolds Memorial Scholarships. 
The Education Endowment was created with a goal of raising $1,000,000 in the interest of funding continuing education for parks and recreation professionals. Public funds for staff training are difficult to obtain and the Education Endowment will help talented, hardworking parks and recreation professionals stay current with continuing education. We have already raised over $200,000 towards this goal including memorial scholarships honoring Suzy Cooksey and Cecil Gilkerson.
The Foundation Fund is used to sponsor educational opportunities including the VRPS Annual Conference, Leadership Training Institute, and Management Conference. It is also used for administrative costs such as audits, investment management, credit card fees, and office support.